Scrapping India's trade privileges could hit US consumers: Senators
美国参议员:取消对印度的贸易特惠可能会伤到美国消费者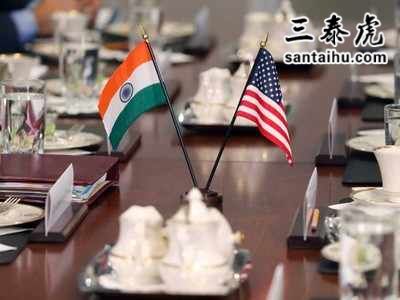 NEW DELHI: A US plan to end preferential duty-free imports of up to $5.6 billion from India could raise costs for American consumers, two US senators have told their country's trade office, urging a delay in adopting the plan, and seeking more negotiations.
新德里:两名美国参议员向印度贸易办公室表示,美国计划终止对从印度进口的高达56亿美元的免税优惠,这可能会增加美国消费者的成本。印度敦促推迟采纳该计划,并寻求进一步谈判。
If President Donald Trump presses ahead with his plan to end the generalized system of preferences (GSP) for India, it could lose the status in early May, Indian officials have said, raising the prospect of retaliatory tariffs.
印度官员表示,印度可能在5月初失去这一地位。如果特朗普总统继续推行该计划,终止对印度的普惠制(GSP),将提高印度征收报复性关税的可能性。
India is the world's largest beneficiary of the GSP, dating from the 1970s, but trade ties with the US have widened over what Trump calls its high tariffs and concerns over New Delhi's e-commerce policies.
自上世纪70年代以来,印度一直是普惠制的全球最大受益者,由于特朗普对高关税及新德里电子商务政策的担忧,印美贸易紧张关系有所加剧。
If the United States scraps duty-free access for about 2,000 product lines, it will mostly hurt small and medium businesses in India, such as makers of engineering goods.
如果美国取消约2,000种产品的免税准入,将主要损害印度的中小型企业,比如工程产品制造商。
Despite close political ties, trade between India and the United States, which stood at $126 billion in 2017, is widely seen to be performing at nearly a quarter of its potential.
两国政治关系密切,2017年印美贸易额为1260亿美元,然而外界普遍认为仅达到潜在贸易额的四分之一。
Trade relations suffered in the past few months after India adopted new rules on e-commerce reining in how companies such as Amazon.com Inc and Walmart Inc-backed Flipkart do business.
过去几个月,印度出台了限制亚马逊和沃尔玛持股的Flipkart等公司经营方式的电商新规,印美贸易关系因此受损。
Last June, India said it would step up import duties varying from 20 per cent to 120 per cent on a slew of US farm, steel and iron products, angered by Washington's refusal to exempt it from new steel and aluminium tariffs.
去年6月,华盛顿拒绝免除对印度钢铁和铝征收的新关税,激怒了印度。印度表示,将对一系列美国农产品、钢铁及钢铁制品加征20%至120%不等的进口关税。
But it has since repeatedly delayed adopting the higher duties.
但自那以来,印度一再推迟征收更高的关税。
印度时报读者评论:
译文来源:三泰虎http://www.sshxj.com/47394.html 译者:Jessica.Wu
外文:https://timesofindia.indiatimes.com
Ramesh - Chennai - 20 hours ago -Follow
Such issues are not addressed by retaliation. Trade is successful only when both parties meet their objectives. It is not who gets less or more. There is give and take. World has changed a lot since 1970. Review of the agreement to suit today's scenario is what both parties need to do and convince each other and agree to the terms.
这些问题不能通过报复来解决。只有当双方都达到各自的目标时,贸易才会成功。不是谁受益少或受益多的问题,有付出才有回报。自1970年以来,世界发生了很大的变化。双方需要做的是,对协议进行审查,以适应当前的情况,并说服对方接受条款。
Sudhansu Sekhar Das - 19 hours ago -Follow
Nothing will happen to India but US consumer will pay more.There is no substitute to Indian n product and Masala.
对印度一点影响都没有,美国消费者将付出更多代价。印度产品和香料是无可替代的。
Pradeep - 20 hours ago -Follow
India has largest population and wider market than any country. If India want then it can prosper within itself without depending on any countries. That is what the unique religion of Hindu teaches the people. Indian citizen has to stop relying on any products made outside the country. India has to start production of its own weapons, medicines, electronic, etc. rather than depending on developed country like US, Russia, France, Isarel, etc..
印度是世界上人口最多、市场最广的国家。只要愿意,印度可以在不依赖任何国家的情况下实现自给自足。印度公民不能依赖任何外国商品。
boycott - mad cow temple - 19 hours ago
Boycott Chinese products. Stop sending Indian IT talents to US. Both will come to India begging.
抵制中国货,停止向美国输送印度IT人才。到时候,这两个国家都将向印度乞讨。
Pramod - Sambalpur - 19 hours ago -Follow
India can withstand the tarrif imposed by USA.If America scraps the privilege s enjoyed by India USA has to suffer a lot.pkp
印度扛得住美国强加的压力。如果美国取消对印度的优惠,美国将遭受巨大的损失
Dreet - 19 hours ago -Follow
Trump bashing India is like India bashing Pakistan
All for polls
特朗普抨击印度就和印度抨击巴基斯坦一样
都是为了选票。
Neera Chhabra - 20 hours ago -Follow
Trump is a fool
特朗普是个傻瓜
Abhishek - 20 hours ago -Follow
Har Har Modi! Foreign Policy at its finest level.
莫迪的外交政策是最高级的。
Dreet - 19 hours ago -Follow
Yes, we are really happy to buy cheap Indian rice and tea.
我们真幸福,能买到廉价的印度大米和茶叶。
Frequent Flyer - Bhubaneshwar - 19 hours ago -Follow
Trumps statement that India is tariff king is actually true.
特朗普关于印度是"关税之王"的声明实际上是正确的。
Mohit - 15 hours ago -Follow
US multinational companies have a big interest in India...Indian market is open for them...USA should not dictate terms with India.
印度市场对美国跨国公司开放,美国不应该对印度发号施令
Ravie - Chandigarh - 14 hours ago -Follow
President of USA should understand this, by hitting India they are directly encouraging their biggest competitor / enemies like dragons.
美国总统应该明白这一点,通过打击印度,直接鼓励了印度的竞争对手,比如中国
Sree - 15 hours ago -Follow
if US fights with china n india that's enough for it to collapse....
china could be unreliable product but
india is intellectual product...
如果美国同时与中国和印度作对,那足以让它崩溃……
中国的产品可能不靠谱,而印度的产品都是有技术含量的……
Arjun Varshney - 15 hours ago -Follow
Trump is a mad and acting like it India Should be careful in dealing with Trump.
特朗普是个疯子,印度应该小心应对特朗普。
Shantanu - Delhi - 17 hours ago -Follow
Face it that Indian exports to the U.S. are quite inconsequential for them and will hardly hurt them. Our exporters will be hurt more. So instead of fake sabre-rattling the right move be to negotiate.
面对现实吧,印度出口到美国的产品对他们来说无关紧要,几乎不会对他们造成损失。我们的出口商将受到更大的损失。与其虚张声势,还不如进行谈判。
Adamroy - 18 hours ago -Follow
anyway this is Trump's last journey
无论如何,这是特朗普的最后一个任期了。
Rajesh - Bangalore - 19 hours ago
Trump needs to learn it via experience why India is important for its economy. When experience speaks they will correct the mistake.
特朗普需要了解为什么印度对美国经济如此重要。经验告诉我们,他们会改正错误的。
Ajit Grewal - chandigarh - 19 hours ago -Follow
Shah bhai modi bhai can conduct a SIR JEE kal strike on US
莫迪可以对美国发起外科手术式的袭击。
Dreet - 19 hours ago -Follow
Rice gets dearer by 50 cents per kg and I will never vote for Trump.Hahaha
大米每公斤涨价50美分,我永远不会投票给特朗普,哈哈。
saksh - 18 hours ago -Follow
MR MOTY IS RESPONSIBLE HE IS BAD OMEN
莫迪应该对此负责,他是个不祥之兆
Manoj Kumar Panda - 19 hours ago -Follow
While showing ourselves big, we are slapped by USA with high import tariff on steel and aluminium and now GSP finished. We are dooming ourselves to camouflage our economic data which is perceived negatively by USA.
在彰显自己强大的同时,我们却被美国打脸,他们提高钢铁和铝产品的进口关税,现在又要取消普惠制。我们注定要捏造经济数据,这些数据在美国看来是负面的。
Makdxb - INDIA - 19 hours ago -Follow
Trump is a business man and he will show his shrewdness on the trade. But it wouldn''t help both side if there is no agreement on taxation. However, people of India is hopeful on good settlement of this issue
特朗普是个商人,他会在贸易上显示自己的精明。如果在税收问题上没有达成协议,对双方都没有好处。然而,印度人民对妥善解决这一问题抱有希望。
funny india - GERMAN - 11 hours ago -Follow
HAHAHAHAHHAAHAHHAHAHA ONE MORE KICK BY INTERNATIONAL PARTNERS HAHAHAHAHAH
哈哈,又被国际合作伙伴踢了一脚
Main - New Delhi - 14 hours ago -Follow
those uncle Sam guys should feel pain in á??...e
now world order is changing.
山姆大叔会痛的
世界秩序正在改变
Venkatachalam Ramakrishnan - 20 hours ago -Follow
They are sensible persons. The Trump is an impulsive person and does not have amy deep thinking. Venkatpr
这两位议员是明智的。特朗普是个冲动的人,没有深思熟虑。
Prathamesh Patil - 20 hours ago -Follow
True said the Senators biggest beneficiary of tax exemption are the citizens of the United States of America so USA government should think about their people before taking any harsh steps
参议员们说得对,免税的最大受益者是美国公民,美国政府在采取任何严厉措施之前应该考虑到自己的人民
Pradeep Bhatia - 20 hours ago -Follow
For decades India has enjoyed a privileged trade starus. India needs to grow up and stop being a spoilt brat. It needs to reduce tariffs on US goods to level the playing ground.
几十年来,印度一直享有贸易特权。印度该长大了,不要再做一个被宠坏的孩子。印度应降低对美国商品的关税,以营造公平竞争的环境。
Bhari Kaam - 20 hours ago -Follow
The western tax model is based on work labor taxation, not consumption taxes!
西方的税收模式是基于劳动税收,而不是消费税!